Welcome to AOLCC Halifax
Call us today!
Suite 155- 1st Floor, 6960 Mumford Road, Mumford Professional Centre, Halifax, NS B3L 4P1
Phone: (902) 455-3395
Fax: (613)967-4642
Have Questions?
Chat with an admissions advisor about our programs, locations and funding opportunities.
A Better Alternative to Traditional Colleges in Halifax
Since 1992, our campus has been transforming students into professionals. Our unique Integrated Learning System (ILS) has continually provided a logical approach that allows a diverse range of students to progress and succeed. As a result, graduates of our

Halifax training

are ready and eager for the workforce.
From the start, we have provided many students with a better alternative to traditional public colleges in Halifax. We have maintained our core approach to education. The only thing that has changed is the constantly rising number of success stories over time!
Our college in Halifax provides quality, flexible, and honest education. Here, we truly care and take pride in our graduate success. We welcome everyone to join our family on campus. We will be there to offer you support and help you reach your career goals.
Our Halifax family includes successful students from all walks of life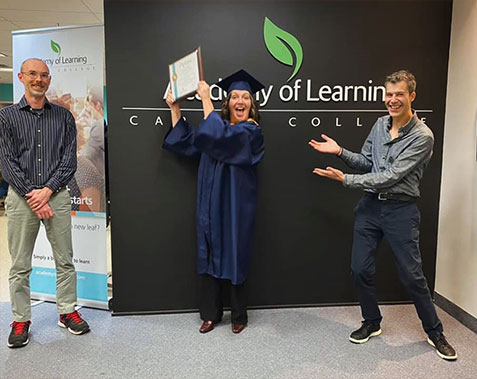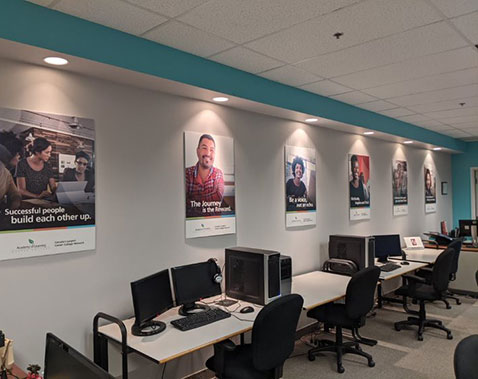 Student-Focused, Flexible Training in Halifax
If you want flexible courses in Halifax to get you career-ready, search no more. Our business career college has done a "180" to focus on learning rather than teaching.
Learn to The Beat of Your Own Drum. All our programs and courses are self-directed, allowing you to learn at your own pace.
Need one-on-one help? Our awesome coaches have you COVERED! They are available at a moment's notice to coach you, check on you, or give you a HELPING hand.
Learn comfortably and safely. You won't find peer competition here – the learning environment is friendly for everyone!
"But I'm terrible with computers!" You say? We provide even the most digitally inexperienced students with the essentials to move forward
Flexibility is Our Game. Enrol and start diploma courses in Halifax any time of the year. Missed a class? No biggie, lessons are available at other times when more convenient.
AOLCC's full range of diploma and certificate programs can help you succeed. Contact us to schedule a campus visit or discuss your future. We offer free counselling for career development!
How to Find Us
Academy of Learning Career College, Halifax Campus, is located in Halifax, Nova Scotia at the Mumford Professional Centre on 6960 Mumford Road, Halifax, NS B3L 4P1, Suite 155 – 1st Floor,
Nestled in the heart of this dynamic city, our campus echoes the vibrant spirit of Halifax, seamlessly blending its rich history with the excitement of the present. Conveniently situated near active shopping districts and several bus stops, AOLCC Halifax has it all.
Eager to experience the fusion of tradition and modernity? Come and witness firsthand how we're redefining education in Halifax. Your journey towards limitless possibilities begins with a single step through our doors. Visit us today!
Meet Your Campus Director
Duane Yeomans
Campus Director
Owner
Admissions Representative
Duane can do it all, and the spirit of the Halifax campus reflects his effort and expertise!
Duane has proudly been working with AOLCC since its beginning. He also had his beginnings here, starting his career soon after graduating from University. And, he was part of AOLCC's evolution as the internet came onto the scene! With 30+ years operating with AOLCC, you can be sure of his expertise.
His favourite part about his job is meeting new people and helping them choose a career program based on their goals. He also loves the international aspect of the AOLCC college in Halifax.
Duane has a passion for helping students achieve their career and life goals. He is always there to help students and encourage them to reach their full potential. Their success is the most rewarding part of his job.
Schedule Campus Tour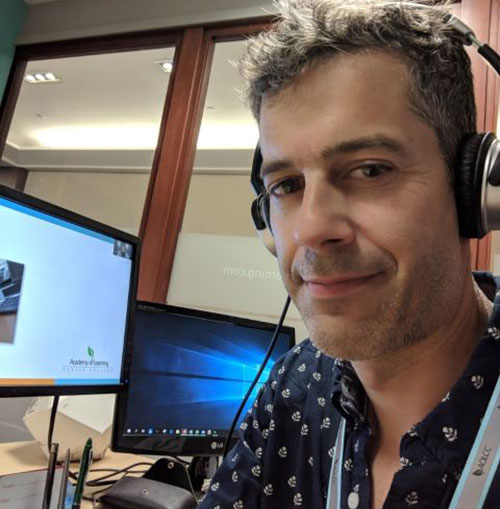 Features and Benefits
Student Focused Training

We have shifted the focus from teaching and put it where it belongs, on learning. Our flexible and effective programs will meet your unique needs.

Competency-based Learning

In other words, each lesson has a defined goal and tests your understanding at the end. If you don't understand the lesson, then you can repeat it before moving on!

You Don't Need Computer Or Special Skills

No matter what skills you have when you enrol, we have a level to suit you. And, we'll always help you along the way.

Start Right Now

You can start your studies right now! Enrolment is continuous throughout the year.

Learn At Your Own Pace

Move through studies in your own time - no need to keep pace with other students.

Learn The Better Way

Research shows that "Learning by Doing" is the most effective way to retain information. Take advantage of this learning style with AOLCC programs.

Individual Help

Trained Learning Coaches are available on-site at all times to offer help with your courses.

Flexible Scheduling

Never miss a class or fall behind. If you need to miss a lesson, no worries. You can take it another time.

Safe Learning Environment

There is no intimidating classroom atmosphere or student competition! Here, we ensure a comfortable and friendly learning environment for all students.
Frequently Asked Questions
Admissions
(3)
How do I know which diploma or certificate program will best suit me?
We have general information on each of our diploma and certificate programs on the Academy of Learning website, as well as on our individual campus pages. We also have Admissions Representatives at each of our campus locations who will be able to discuss all of the programs Academy of Learning has to offer.
A career college sounds great to me, but how will I afford it?
Our Admissions Representatives and Campus staff can provide you with all the tools and information you need regarding financing. Financial assistance may be available for those who qualify.
Will I be lost in a large class?
Never! Our model ensures that each and every one of our adult learners has the opportunity to engage with a qualified Learning Coach for one-to-one assistance and guidance.
General
(3)
I am older than the typical student. Will I fit in?
Yes, you will! We have a vast network of 'Adult Learners' at all of our AOLCC locations. We strive to create a safe and comfortable atmosphere where you can feel at ease while you learn, whether you're still a teen or well into your 80s, 90s, and beyond!
Will I be able to handle the workload since I work part time?
Yes, AOLCC's scheduling has been designed with you in mind. All our students have flexible options to ensure you achieve work/life balance.
Can I attend AOLCC if I do not have my High School Diploma or GED?
Yes, of course! If you have not received your grade 12 diploma, you can enroll as a "Mature Student." We will administer an entrance examination to ensure you have the ability to succeed at our campuses, and the AOLCC campus' director will make the final decision.
Fun Facts
Did you know that the Halifax Transit Ferry is the oldest saltwater ferry in North America? As a matter of fact, it has been connecting Halifax to Dartmouth for over 269 years.
Founded in 1749, Halifax is one of the oldest British towns in Canada. Its rich history is still evident in the well-preserved historic sites and architecture throughout the city.
Halifax Harbour is renowned for being one of the world's largest natural harbors, second only to Sydney Harbour in Australia. This expansive and deep harbor has played a significant role in the city's development and maritime history.
Windsor, just north of Halifax, is often credited as the birthplace of ice hockey. The earliest recorded game of ice hockey was played in the city's Victoria Skating Rink in 1883.
Halifax is home to the impressive Citadel Hill, a star-shaped fortress that played a significant role in Canada's military history. This location is one of Canada's most-visited National Historic Sites.