Healthcare Aide workers, or Personal Support Workers are one of the most essential members to any healthcare institution or private healthcare provider. They provide personal assistance and support to people who are unable to do certain tasks on their own. Usually these are patients who suffer from illnesses, certain disabilities and senior citizens who need physical support. There are also patients who suffer from long term medical conditions which require around the clock assistance from Healthcare Aide workers.
In practice, Healthcare Aide workers are required to provide essential support to patients who need assistance. Thus, this role is highly in-demand in any healthcare facility as they serve the backbone of the industry, assisting patients and providing them with a better quality of life.
The usual daily routine of a Healthcare Aide worker includes assisting in feeding, bathing, grooming, exercising and tends to other personal needs of the patient. It is an incredibly difficult but noble career, and requires patience, stamina, compassion and charisma to succeed.
In fact, Healthcare Aide workers are so in-demand that countries with advanced healthcare such as Canada celebrate the career. October 18th is the official "Healthcare Aide Day" in Canada.
1. Healthcare Aide Workers in Canada Have Flexible Working Schedules
When it comes to assisting patients, a Healthcare Aide worker's hours are never set in stone. There are times that they may get days off, and there are days where they are required to work for long hours.
The working hours of each Healthcare Aide worker is also highly dependent on where they are working, such as a hospital or a clinic, in comparison to a private nursing company. Working hours may vary on the number of clients they serve or the type of care being provided.
2. Healthcare Aide Workers Are in Demand Due to Canada's Rising Age Population
Canada has one of the most advanced medical technologies in the world. Pioneering in the healthcare industry, the country currently has a growing age population. In fact, the current average age of the population in Canada is around 43 years old. As the age population increases over the years and as more medical discoveries are found, the demand of Healthcare Aide workers in Canada will continue to grow along with it.
Related: How to Kickstart a Career in Healthcare
3. Canada's Fertility Rates Are Going Down.
Statistics show that the fertility rates in Canada have been gradually decreasing since the early 60s. This means that couples in the country have slowly opted to have less children as the generations go by. Since the 1960s, the fertility rate was at 3.5 – 4.0 which meant that each household had an average of 4 children, now in 2021, it is 1.37. Most families are having only one child, and some opting to have none.
The rising age population and the decreasing fertility rates means that the population pyramid in Canada would soon be flipped around, similar to Japan's case, another country which pioneers in advanced healthcare. With more senior citizens and less children to look after them, the demand for Healthcare Aide workers would undoubtedly increase rapidly.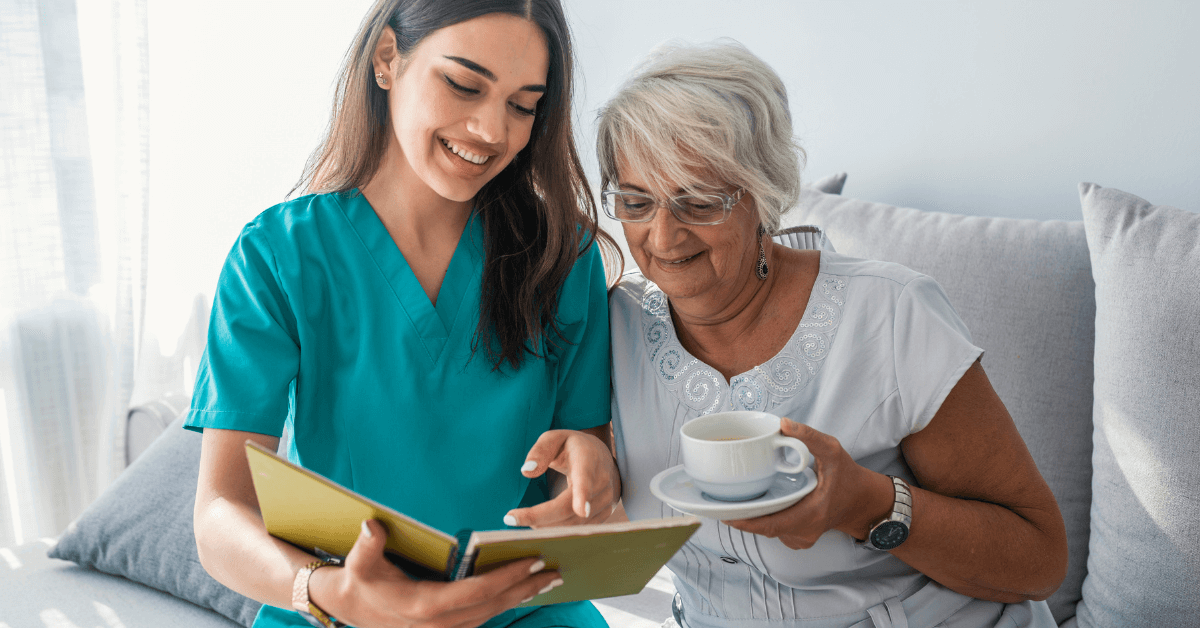 4. Canada's Crackdown On COVID-19
The Canadian government has taken great precautions to ensure that the spread of COVID-19 is kept to an absolute minimum. However, these extra precautions also mean that there is an increase in demand for Healthcare Aide workers. The number of patients who require private healthcare services have increased since they are not allowed to stay in hospitals for extended periods of time. The number of patients who are quarantined after recovering from the virus has also been at an all-time high, which also means that now more than ever, Healthcare Aide services are required all throughout Canada.
5. Canada Celebrates Healthcare Aide Day
As mentioned previously, Canada highly appreciates Healthcare Aide workers and have dedicated a day to them. Similar to Father's Day or Mother's Day, Healthcare Aide Day is when patients, doctors and everyone in the medical industry celebrates the contributions that Healthcare Aide workers provide. The strong respect the country offers to Healthcare Aide workers ensures that there will always be positions open for people who are passionate about it. Paired up with the advanced medical field in Canada, Healthcare Aide workers in the country are also promised very fair wages, as compared to many other neighboring countries.
Related: Steps to Becoming a Personal Support Worker
Working as a Healthcare Aide Worker or Personal Support Worker in Canada Is a Gateway to New Beginnings
As the country welcomes Healthcare Aide worker with open arms, it provides passionate and curious individuals incredible new opportunities for their future. Thus, if you are passionate about helping others and giving back to the community, building a career as a Healthcare Aide worker in Canada is a solid option to set up a bright future for yourself.
If you don't know where to start, at Academy of Learning Career College we offer Healthcare Aide courses that provide you with the foundation and certifications needed to begin a career in this industry. Learn from the experts and build a strong resume to secure your future as a Healthcare Aide worker today!