Do you want to give your career an upgrade? You're not alone. According to a recent survey, 63% of workers feel unsatisfied at their job while another 24% hate going to work every day. That's almost 90% of the workforce that wouldn't mind a career change!
Employees feel unsatisfied for different reasons. They may not be proud of their occupation, don't feel fulfilled by the work they do, or simply believe they're not being challenged enough.
If you want to move up to a more rewarding position, make the switch to a different field, or even start your own business, a business administration diploma can be a great first step to getting there.
And with flexible study options, continuous start dates, and affordable tuition, going back to college is easier than ever before!
Continuous Intake Makes Business Training Convenient for Busy Students
For busy people looking to upgrade their career, the hardest part can be finding the right time to begin training.
Traditional start dates in September and January are often busy times. By January, many families feel financially drained after the Christmas crunch. And in September, parents might be so caught up in helping their children get back to school that they don't have time to consider their own education.
That's why continuous start dates throughout the year can be a huge help. Academy of Learning College (AOLC) offers business administration training in Nanaimo with intake dates year round. We cater to your scheduling needs – not the other way around!
Flexible Learning Options Ensure You Can Train While You Work
Many returning students can't afford to quit their current job when they go back to school. In fact, even part-time studies can be hard to squeeze into the day or evening when you're balancing work and a family.
That's why more and more colleges have begun introducing flexible study options. As a leading business college in British Columbia, AOLC helps students complete courses at their own pace – through their patented Integrated Learning SystemÔ. A blend of online and on-campus learning makes it easier for students to make up missed classes, and learn at the speed that works best for them.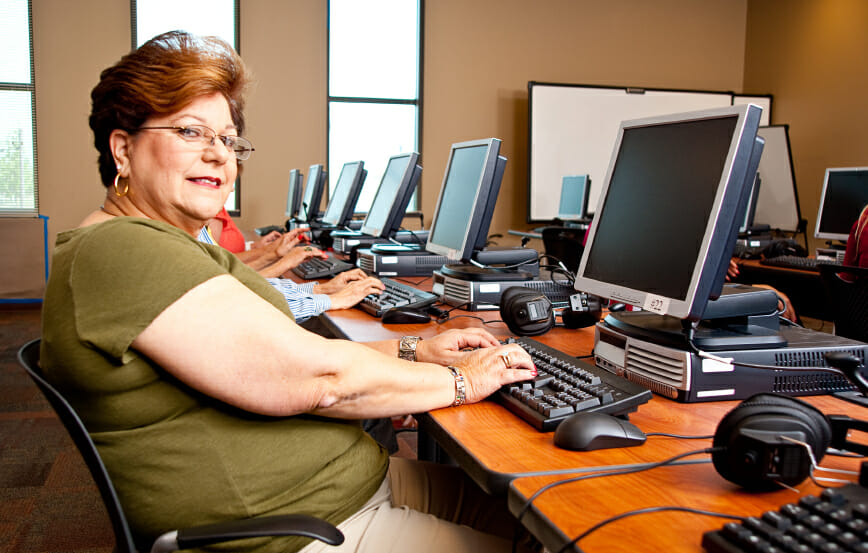 One-on-One Support Helps You Master Challenging Coursework
Many students hold off on going back to school because of a previous bad experience with education. They might have been frustrated by a particularly challenging subject, or felt left behind by an instructor who couldn't focus on each student's needs.
The truth is, most students struggle with at least one subject at school. If you pursue project management certification in Nanaimo, for example, you might breeze through courses in customer service – but need a bit more support grasping the finer points of business economics.
At Academy of Learning College, we recognize that each student has their own unique strengths and weaknesses. That's why we offer accessible one-on-one support with our expert instructors, by email and in person, to help you truly understand each concept before moving on to the next.
AOLC students graduate with full confidence that they've mastered the skills they need to meet their career goals.
Want to explore which business program can take your career to the next level?
Visit AOLC to discover our program options, or to book an appointment with an expert advisor.