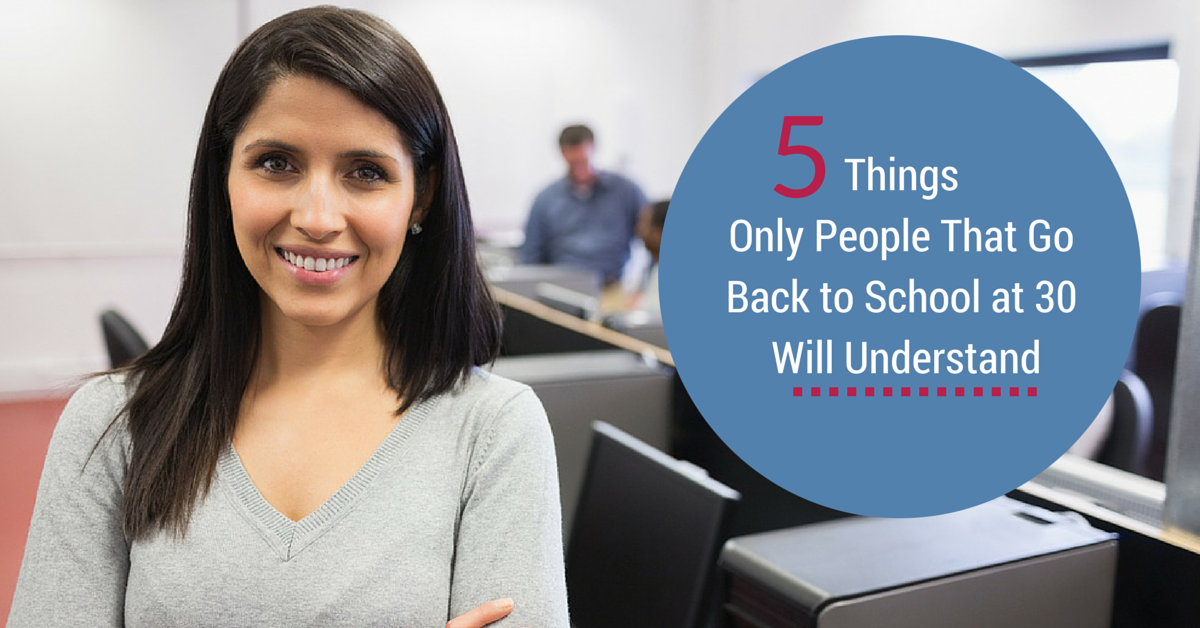 At 30, you might feel old as a freshman. But you shouldn't: ever-changing technologies, job markets, and economies have prompted many individuals to return to school, and train for a new career.
A higher education may seem like a daunting endeavour, but it offers one of the highest payouts when it comes to your career and personal satisfaction.  If you're one of the many who are going back to school at 30 (or older), read on to learn some of the struggles and victories that come with returning to school with a few extra years of experience under your belt.
1. "I can't go bar hopping. My spouse made dinner."
The college "scene" is happily stereotypical; young adults experiencing the freedom of being young, without parental restrictions.
In a youthful, happy-go-lucky community, socializing with your classmates after hours may be challenging. Although a third of undergrads in the US are over the age of 25, the presence of other social requirements in your life may cause you to feel a little twinge of loneliness.
2. "No, I don't remember high school Algebra any more…do you?"
The longer you are away from the education system, the more you forget about the details contained within each subject. Even professionals who choose to go back to further their degree tend to experience a greater difficulty with remembering the little things from high school.
Fortunately, most colleges and universities offer free tutoring programs to help you catch up on the basics and ace your classes, regardless of how long it has been since you last heard of verb conjugations.
3. "I have more in common with my professor."
The age gap between older students and their younger, 18-20 year old classmates can be daunting at first. That is, until you realize that you can relate more to the class instructor with your additional experience and world knowledge.
When the instructor feels like he can relate to you because you're closer in age, he may be more likely to go the extra mile to make sure you succeed.
4. "I'm exhausted all the time!"
Studying a large variety of subject matter exercises many different parts of your brain – from math to art, physics to philosophy.
Although your cognitive abilities are elastic, it may take a while for you to catch up with the learning curve that is happening.
Make your psychological health a priority, since much of your motivation and endurance depends on it.  Exercising daily will release your feel-good, optimistic endorphins.
Eating well-balanced meals will give your brain the proteins and nutrients that it needs to stay sharp. And, of course, don't forget to kick back and relax.  It will benefit your focus in the long run.
5. "I don't always have the answer… But I probably do."
Your younger classmates may look to you for all the answers, because you seem much smarter than them. The truth is, you're simply more mature, working harder, and taking this more seriously than most 18 year olds.
So be patient, as your classmates look at you as some sort of second-professor in the room. Help them. They will be there to help you, when the time comes.

Are You Thinking About Going Back to School?
If you're considering heading back to school to train for a new career, congratulations!  Regardless of your age, the best way to begin working in your dream job is to get the right education.  But where to start?
At Academy of Learning College, we provide quality hands-on, effective training for a wide variety of careers.  With flexible scheduling and continuous enrollment, we support older students by allowing them to balance their learning with their busy lives, whether it's caring for a family or working a job (or both).
Learn more about our many courses that are available, or contact us to get started on your path to a new career!