So you've completed the first, most important step toward advancing your career or starting down a brand new professional path. You've gone back to school and earned a college diploma. Congratulations!
Now that you've got the credentials you need to get ahead in your field, it's time to focus on landing that first position – the dream job that will let you apply all that you've worked so hard to learn.
Most recent graduates know the fundamentals of a successful job search and interview, such as creating a professional resume, arriving ten minutes early, and following-up with a thank-you email. But there are a few other insider tricks every job candidate should be aware of to truly maximize their hiring potential.
So whether you've just finished accounting courses or completed healthcare training, check out this infographic for lesser-known expert tips on landing your first job after graduation.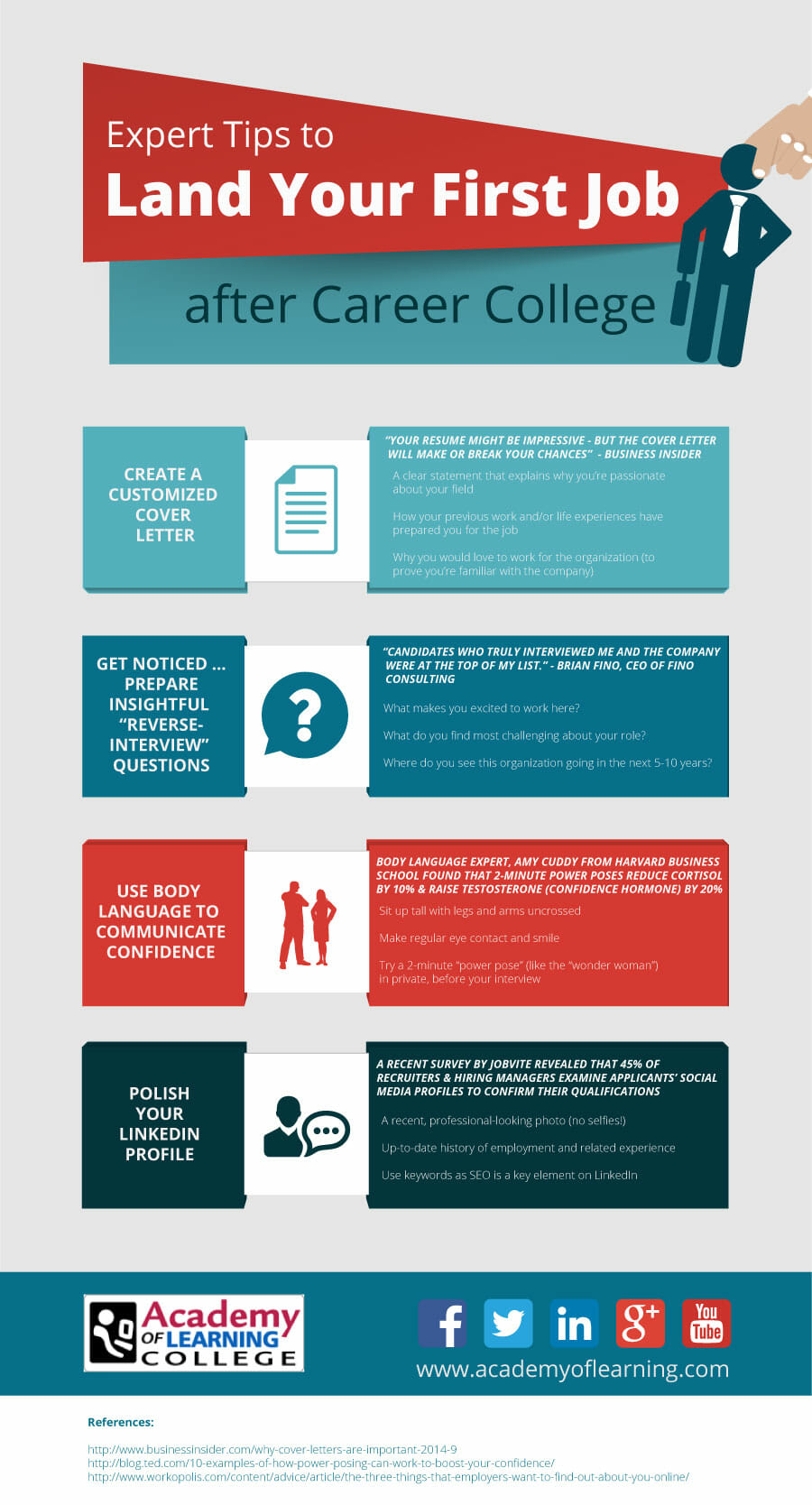 Expert Tips to Land Your First Job after Career College
Create a customized cover letter
"Your resume might be impressive – but the cover letter will make or break your chances" – Business Insider
A clear statement that explains why you're passionate about your field
How your previous work and/or life experiences have prepared you for the job
Why you would love to work for the organization (to prove you're familiar with the company)
Get noticed … Prepare insightful "reverse-interview" questions
"Candidates who truly interviewed me and the company were at the top of my list." – Brian Fino, CEO of Fino Consulting
What makes you excited to work here?
What do you find most challenging about your role?
Where do you see this organization going in the next 5-10 years?
Use body language to communicate confidence
Body language expert, Amy Cuddy from Harvard Business School found that 2-minute power poses reduce cortisol (stress hormone) by 10% and raise testosterone (confidence hormone) by 20%
Sit up tall with legs and arms uncrossed
Make regular eye contact and smile
Try a 2-minute "power pose" (like the "wonder woman") in private, before your interview
Polish your LinkedIn profile
A recent survey by Jobvite revealed that 45% of recruiters and hiring managers examine applicants' social media profiles to confirm their qualifications
A recent, professional-looking photo (no selfies!)
Up-to-date history of employment and related experience
Use keywords as SEO is a key element on LinkedIn
Endorsements from past employers, organizations where you've volunteered, and/or instructors
References:
http://www.businessinsider.com/why-cover-letters-are-important-2014-9
http://blog.ted.com/10-examples-of-how-power-posing-can-work-to-boost-your-confidence/