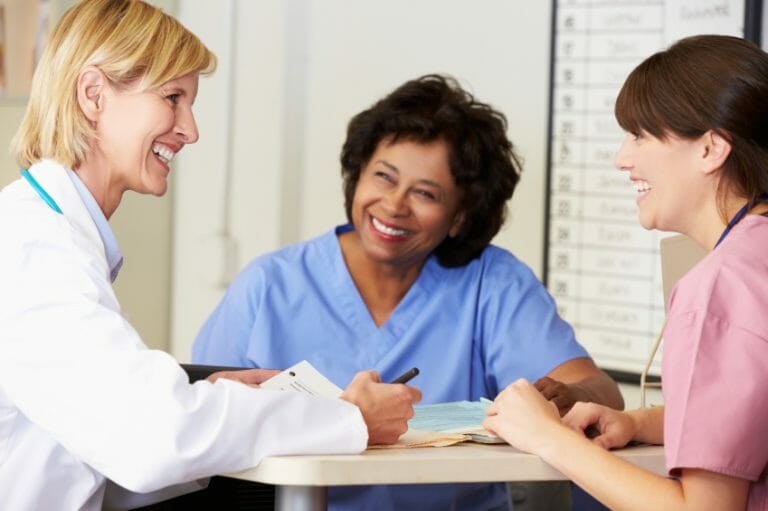 Can you picture yourself working alongside doctors, nurses and other specialists in a medical setting? It doesn't take full bank accounts and ten years of post-secondary study to become a respected medical professional. If you're passionate about working in a medical service profession, helping the members of your community who need it most, consider investing in a medical office administrator diploma. Medical office assistants work at the frontlines of the healthcare field, making meaningful connections with patients and ensuring the complex inner workings of a medical institution are well-ordered and organized. You can fill this important role with training from schools like Academy of Learning College (AOLC), which allow you to learn at your own pace and in the comfort of your own home through new integrated online learning options. Wondering if medical office administration training will suit you? Curious about what this career actually entails? Read on to discover a day in the life of a modern medical office assistant.
An Early Start: Healthcare Diploma Grads Get Organized for the Day Ahead
One benefit of medical administration careers is their flexibility: professionals can choose to take 9-5 weekly schedules (enjoying nights and weekends off) or more customized shift work, depending on personal responsibilities and their experience and seniority within their workplaces. This makes these careers ideal for working parents or those balancing a heavier personal schedule. In the beginning, most medical administration professionals will find themselves rising early and welcoming patients into their workplaces at 7 or 8am. Then these professionals settle in by checking their emails and digital calendars for any high-priority issues, and to find out what each workday has in store. "I take a look at what types of appointments are coming in that day," explains healthcare diploma -holder Loretta Lyons, who works as a medical office administrator in a doctor's office. "And I figure out what I'll need to have in each exam room in order to be prepared for each one."
Handling a Medical Office Administrator's Duties, Patient by Patient
Once you graduate from healthcare school, you'll be eligible for employment in a range of professional medical workplaces. In every job, you'll be required to interact with people from all walks of life, providing them with skilled and compassionate service. Throughout any typical workday, medical office administrators use these skills to welcome patients, log their information into their record system (verifying with each patient that this information is up-to-date), and eventually checking them out of the office. Details logged into a medical record system include a patient's current medications, allergies, changes in healthcare, and more. "That's very important," explains Loretta, "because one of those issues can impact a lot of other issues that the patient might have." Time between patients is filled with important patient insurance paperwork, and fielding calls that come into the office about emergency appointments or appointment cancellations.
Ending Each Day Knowing Their Healthcare Training Has Made a Difference
Medical office administrators end each day prepared to meet the next, with each upcoming patient reminded of their appointment and all sensitive medical documents safely filed away. Medical office administrators then sterilize any of their office's used procedure rooms and stock them with necessary gowns, tools, and specimen jars. These professionals might also ensure that particular specimens are brought down to medical labs, or that pharmacies have been notified of any particularly sensitive prescriptions coming their way. Often, the specimens in question are the key to a patient's diagnosis, and the prescriptions are the essential ingredients a patient needs to live his or her fullest life. Medical office administrators finish their shifts knowing that with their diligence and expertise, their community is one day healthier! Are you interested in taking your first healthcare course? Visit Academy of Learning College to learn more or to speak with one of our friendly advisors.